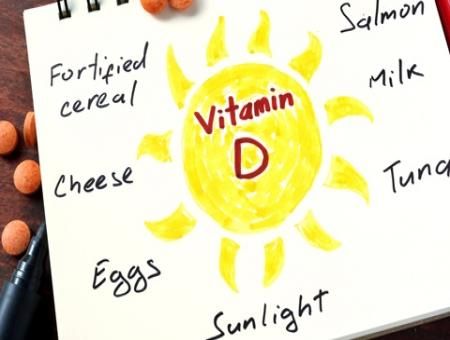 Beware: Winters Can Aggravate Vitamin-D Deficiency!
By Medical Expert Team
Jan 11 , 2017 | 2 min read
Your Clap has been added.
Thanks for your consideration
Share Link has been copied to the clipboard.
Here is the link https://www.maxhealthcare.in/blogs/beware-winters-can-aggravate-vitamin-d-deficiency
Popularly known as "Sunshine Vitamin", it is essential to strengthen the skeletal system, as well as decrease the chance of osteoporosis and fractures. Surprisingly, most parts of India get plenty of sunshine throughout the year but it might surprise you that still 70-80% Indians have low muscle strength due to deficiency of Vitamin-D. This vitamin is usually synthesized in human skin from sunlight.
Benefits of Vitamin-D
Keeps bones strong
Helps in absorption of calcium
Reduces the risk of fall in elderly
Prevents Diabetes, Cardiovascular Diseases, Infections, Cancers and several other conditions.
Prevents rickets and osteomalacia
However, researchers are still finding evidence to support Vitamin-D therapy for skeletal development.
Vitamin D Deficiency- Causes
Older people are prone to develop vitamin D deficiency because of various risk factors:
Decreased dietary intake
Diminished sunlight exposure
Impaired intestinal absorption
Impaired activation in the liver and kidneys
Vitamin D Deficiency- Symptoms
Muscle weakness 
Bone pain
Fatigue
Muscle cramps or aches. 
Diagnosis of Vitamin D
Most commonly, your doctor will advise a 25-hydroxyvitamin D test to check the levels of Vitamin D.
Winter months further intensify this deficiency as the elderly population is mostly confined indoors. The consequences of vitamin D deficiency among elderly are loss of bone and muscle strength.
Muscle weakness due to vitamin D deficiency is predominantly of the proximal muscle groups and is manifested by a feeling of heaviness in the legs, tiring easily, and difficulty in climbing stairs and rising up from a chair.
Why talk of Vitamin D deficiency now?
Vitamin D deficiency is now considered a global pandemic. Many experts believe changes in lifestyle and lack of sun exposure is responsible for this. A more plausible explanation is that probably we have started identifying the condition more frequently in last 10 to 15 years because laboratory assay to diagnose the condition was not available in the past. 
Why Indians are deficient in vitamin D so commonly has remained an intriguing question. Darker skin complexion and higher melanin concentration in Indian skin can hinder vitamin D formation. There might be genetic and other unexplained factors which might impair vitamin D synthesis in Indian skin.
Can the deficiency be corrected?
The good news is that this is an easy and inexpensive deficiency to correct. The deficiency is reversible with supplementation. The Endocrine Society of India has recommended that vitamin D should be supplemented in Indian people to combat the country's high prevalence of vitamin D deficiency.
As per the guidelines of Endocrine Society of India:
400 international units (IU) of vitamin D a day for infants,
600-1000 IU for children,
1000 IU for adolescents and pregnant women after 12 weeks' gestation,
1000-2000 IU for adults
Vitamin D supplementation is essential because it may be difficult to achieve currently recommended vitamin D levels through sunlight exposure alone. With the exception of fatty fish, the vitamin D content of most foods is relatively low to nonexistent.
Sources of Vitamin-D
Sunlight
Natural Foods: Fatty fish salmon, sardines, tuna, Cod Liver Oil, Mushroom, Egg, Yolk
Fortified Food: Milk, Edible oil
Supplements:60,000 units tablet or capsule or sachet;2,000 unit tablet/capsule;1,000 unit tablet/capsule
Our Experts give "A word of caution"
Dr. Saptarishi Bhattacharya says, "Amid growing concerns about vitamin D deficiency, we also now have indications that in some situations Vitamin D is being prescribed unnecessarily or in excessive doses. Injectable vitamin D preparations are usually not necessary unless there is suspicion of malabsorption.  Very high dose of vitamin D can increase serum calcium levels and cause other side effects. 
Written and Verified by:
Medical Expert Team