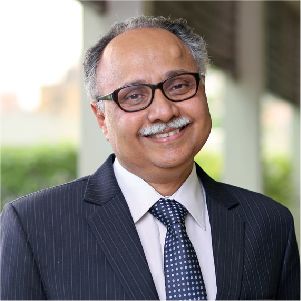 Dr. Harit Chaturvedi
Dr. Harit Chaturvedi started his oncology career at the esteemed and well known Cancer Institute, Adyar (Chennai).
Chairman - Max Institute of Cancer Care
Dr. Harit K Chaturvedi is the Chairman of the Max Institute of Cancer Care. He joined Max Healthcare in 2009, and his ability to nurture young talent has earned him a reputation as a teacher and a mentor. He has passionately built one of the largest and finest oncology programs in the country, from the grassroots, and continues to raise its standard year after year. 
He has performed surgeries at live surgical workshops, presented his work at national and international conferences, and has a large number of publications in peer-reviewed journals. With a continuous focus on specialisation, clinical quality, research, and academics, he has steered his team of over a hundred oncologists into the Disease Management Group (DMG) model to help position Max Institute of Cancer Care (MICC) as one of the most respected brands in the oncology space. 
Dr. Chaturvedi has served as President for the national bodies, viz. Indian Society of Oncology and the Indian Association of Surgical Oncology. He demonstrated his grand vision by building the brand of the Indian Cancer Congress as its first organising secretary.
He completed his MBBS & M.S. from G.S.V.M. Medical College, Kanpur, India, and M.Ch. (Surgical Oncology) from Dr. M.G.R Medical University, Chennai, India.